Performance Caracteristics
1. The product meets the standards of China, the United States and theEuropean Union, and it conforms to the requirements of ROHS, EN71Part3, EN1811,CPSIA and so on.
2. The remelting temperature is low, the slag content is small, and theinternal crystallization is fine.
3. Physical and mechanical properties, castability and dimensionalstability, and creep resistance are good.
Directions For Use
1. Bake and dry before use, do not stir and do not catch slag when feeding;the scum above the molten liquid is stirred calmly with a slag rake to gatherit and take it out.
2. The nozzle material is put into the proportion of 25% to 30%, and thereis no need for slag.
3.The optimum temperature of diecasting is 420 ℃-435 ℃, and the optimum temperature of mouldis 210 ℃-230 ℃. Theupper limit of die casting temperature for thin wall parts and complex parts,and the lower limit for thick wall parts and simple parts should be taken.
4. There may be the following phenomena in the course of use: there is athin oil film on the surface of the alloy liquid, and at the same time, therewill be a small amount of black film, all of which are normal.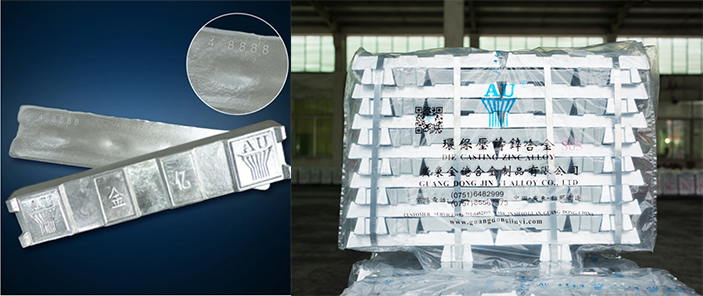 Packaging and storage
The product is a block silver-white metal, and stacked neatly. TheChinese version each bundle 108 pieces (English version each bundle 130pieces), with galvanized steel strip bundled, and packed in PVC bags. If theproduct is not used up after opening the seal, it is best to re-seal in orderto dustproof and reduce oxidation. Also, this product needed to be store inventilated, dry, non-corrosive places, and pay attention to moistureproof.
Downloading